【炎上動画】世界的人気ユーチューバーが自殺名所『青木ヶ原樹海』で死体を発見、大問題になった動画
<!? ここからアイキャッチ画像 ?>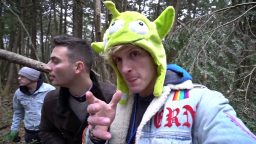 <!? ここまでアイキャッチ画像 ?> <!? ここからアイキャッチ下 ?>
<!? ここまでアイキャッチ下 ?>
世界的人気ユーチューバー、ローガン・ポール(Logan Paul)さんが、自殺の名所として知られる青木ヶ原樹海で遺体を発見しそれを投稿したため大問題になりました。
動画投稿サイト「ユーチューブ」に動画を投稿して広告収入を得る「ユーチューバー」として若者に人気の米国人男性ローガン・ポール氏が、富士山の北西、山梨県の青木ケ原樹海で自殺したとみられる遺体の動画を投稿して批判が殺到し、謝罪に追い込まれた。動画も削除した。米メディアが2日報じた。

ポール氏は富士山麓の樹海を仲間と散策した際に首をつって自殺したとみられる遺体を発見。一部始終を撮影した動画をユーチューブに一時投稿していた。批判を受け、ツイッターで謝罪した上で「自殺防止の意識を高めようとした」などと釈明した。(米人気ユーチューバー、富士の青木ケ原樹海で自殺遺体の動画投稿 批判殺到で謝罪、削除 sankei.com 2018.1.3 00:26)

【1月3日 AFP】米俳優で、動画共有サイト「ユーチューブ(YouTube)」上で人気の「ユーチューバー」としても知られるローガン・ポール(Logan Paul)さんが、日本の富士山麓の青木ケ原(Aokigahara)樹海で自殺した人の遺体を撮影した動画を投稿して非難が殺到したことを受け、謝罪した。動画は既に削除されているが、それ以前に600万人が視聴していたと報じられている。

報道によると、問題の動画には首をつって自殺した男性の遺体が映っていたとされる。ツイッター(Twitter)では動画に対する批判が殺到。さらに、編集時にカットされたもののツイッター上で拡散したシーンでは、現場で笑い冗談を飛ばすポールさんが映っており、非難の火に油を注いでいる。(afpbb.com 2018年1月3日 4:51)
動画は、本人は削除しましたが、依然としてYOUTUBE上で見ることができるようです。報道では、現場で冗談を言って笑っていたとありますが、一体どのような態度で何を話していたのか非常に気になったっため、会話の部分を見てみることにします。遺体を見つけたときの彼らの反応は、DISRESPECTFULというわけではないように見えます。また、後から、本人は自分の反応について、
Me, smiling and laughing does not, uh, it's not a portrayal of how I feel about the circumstances. I cope with things with humor, while this is incredibly sad.
と述べており、日本人からするとおちゃらけていて非常に不愉快に受け取れなくもないのですが、新聞の記事から受けた印象とは異なっていたようです。しかし遺体を映したという行為は許されるものではないでしょう。しかもこのYOUTUBERのファンは若い世代、少年少女が多いらしいので、なおさらです。本人は、動画をあげた行為に関して、謝罪をしています。
So sorry. pic.twitter.com/JkYXzYsrLX

— Logan Paul (@LoganPaul) 2018年1月2日
【炎上動画】世界的人気ユーチューバーが自殺名所『青木ヶ原樹海』で死体を発見、大問題になった動画(この動画は第三者の手によるものであり、問題の場面は黒く加工されていて映っていません。2:02~が問題のビデオ。問題の場面は7:43~)
YOUTUBEでは文字起こしが閲覧できます。それをもとに一部に関してトランスクリプトを作成しました、聞き取りが不十分な箇所は間違いを含む可能性があります。この自動文字起こし自体にも明らかな間違いが含まれています。
02:08
okay this is not clickbait this is the
02:11
most real vlog I've ever posted on this
02:13
channel and this is the most
02:15
circumstantially surreal event that has
02:17
ever happened in my life I'm not
02:19
monetizing this video for obvious
02:21
reasons I will say before you watch this
02:23
is graphic I think this definitely marks
02:26
a moment in YouTube history because I'm
02:28
pretty sure this has never hopefully
02:32
happened to anyone on YouTube ever now
02:36
with that said the fuck up because
02:40
you're never going to see a video like
02:54
oh now I know what you're thinking Logan
03:04
that giant mountain is structure is
03:06
Mount Fiji that is where they make Fuji
03:08
water bougie apples are made there
03:13
Fuji water's made their foods Mars wait
03:17
don't tell me you don't learn anything
03:20
hey yo good morning okay what's up it's
03:22
almost when you eat it's the last day of
03:23
2017 let's recap for second guys I hope
03:26
you had an amazing year I hope you
03:27
achieve all the goals you wanted to I
03:29
hope you had all the sex you wanted to
03:31
I'll do that aids on all your tests hope
03:33
you got better shape but if you didn't
03:34
do me a favor come up with a new year's
03:36
resolution by the end of this vlog cuz
03:38
we gonna make 2018 great our family's
03:40
only getting stronger by the end of 2018
03:42
Oh knows where the Logan's gonna be so
03:43
if you have not subscribed yet join the
03:45
strong family on YouTube the Logan as
03:46
you know gang you guys know this my life
03:49
moves out a thousand miles per hour it's
03:51
lights camera action and like two years
03:53
ago I fell in love with the idea of for
03:55
New Year's slowing it down like going
03:56
somewhere that's really isolated and
03:58
instead of going out or partying I'm
03:59
kind of like we're sort of finding
04:01
myself so we're in Tokyo Japan right I
04:03
figured this was the perfect time to do
04:04
it because if you look to my right lo
04:06
gang I give you the Aokigahara don't
04:11
make fun of me this is a big deal why
04:12
cuz this forest is also known as the sea
04:15
of trees also known as the Japanese
04:31
so this is an ancient forest that lies
04:34
at the base of Mount eat huh Bujji
04:37
where's your water Fiji water Fuji like
04:40
an apple oh you're like a doctor an
04:42
apple a day keeps the doctor where you
04:43
tell me we gotta focus this is not a job
04:50
you've seen the videos low gang they
04:52
make movies about this place they read
04:54
books about this place people
04:58
legitimately come here to commit suicide
05:00
about 100 people per year there's
05:05
absolutely zero cell phone service so if
05:08
you get lost your fust okay so dead
05:13
serious so when we rolled up you're
05:16
dude you can't say that at a suicide for
05:19
us I rolled up I got the weirdest
05:22
guys this place is creepy weird one
05:24
visitor described the silence as chasms
05:27
some believe the ghosts of those
05:29
abandoned in the mournful spirits of the
05:30
suicidal linger in the woods
05:34
folklore claims they are vengeful
05:37
dedicated to tormenting visitors and
05:39
luring those that are sad and lost off
05:48
allegedly this place is haunted well
05:50
because we're spending the night
05:52
that's our canopy tent we also bought a
05:54
bunch of stuff for sleeping got a
05:59
binoculars so we can see the ghost
06:01
hey goes no it's scary as this is we do
06:08
have our security his name is Jess sushi
06:10
now two days ago he had one flashlight
06:12
yesterday he had two flashlights today
06:21
hate flashlights yeah we go camping I
06:25
will say if I'm getting haunted by a
06:27
ghost I'm gonna do it on my Gucci jacket
06:29
I want to look good just a couple of
06:37
dumb Americans going camping in a
06:39
suicide forest so we got all our gear we
06:41
got a candidate a pillow sleeping bag
06:43
loser just on fire guys this is
06:44
definitely gonna be a thing campfire
06:46
antlers fire calves are not a for
06:47
sometimes thanks for the clarification
06:49
can I put a quick message out this hey
06:52
your ghost in this Porsche please please
07:08
this is it and we're officially stepping
07:10
off the trail into the forest got a 24
07:44 I really hate to say this. I think there's someone hanging right there mmm
07:51 I'm not even *** kidding.
07:54 Do you see? I'm not even this is no joke, guys.
07:58 That's a fucking person – I told you
08:06 What the heck? Dude, let's go. What's the heck?
08:08 I've never seen a dead person. You haven't? No, bro.
08:16 Oh my god. He's hanging.
08:16 Bro, do we just fight a dead person in the suicide forest hanging? Yes. Do you think that's real? Well it could be because one of my classmate in the junior high school, he really killed himself
08:29 No. Yeah. He was only twenty-one.
08:37 Excuse me?
08:41 How long do you think he's crazy no
08:43 This isn't real.  bro We gotta call the police. Call the police, Bro. Yeah. Yeah.
08:53 Yeah, what the *** actually.
08:59 Yo are you alive you going those.  So, OK, a lot of things going through my mind. Um,this is the first for me. It's definitely a first for me. This literally probably just happened. Um, Ysushi, you call the police?
09:19 This is dude whose hands are purple. Probably he did this this morning. I'm so sorry about this. Oh, no. I'm, I'm so sorry about this Logan. This was supposed to be fun vlog. We were gonna address this before we saw this. I'm not just saying this but I was gonna set up the camp and everything. Obviously, and now experiencing in real life and firsthand suicide is not a joke. depression and mental illnesses are not joke. No way. We came here with an intent to focus on the haunted aspect of the forest.
09:55 This just became very real. And, obviously, a lot of people are going through a lot in their lives and ..  We just want you guys to know that if you're going through anything like we're here for you wherever your friends or family love things there are people out there for you. We just want you guys to know that remember that. 10:15 Suicide is not the answer guys. There are people that love you and care for you. Like I said we're gonna do this before this happened this just turned really way to scarily real.
10:31 The craziest part about this …  The parking lot is right there dude. Yes literally right there. Like, guys, we're a hundred yards away from parking lot. I don't, I don't feel very good. Yeah. Well you never ever stand next to a dead guy.
10:47 No.
10:57 It was all it was gonna be a joke. Yeah. This was all gonna be a joke. Why it has become so real?
11:03 This is the thing. This is the thing. That is now in our lives. Just experience.
11:07 What the ** is going on? I don't know, dude. Why?
11:12 It's sinking in, bro. It wasn't  supposed to happen, man.
11:16 Just doesn't make sense.
11:18 This bag is right there. He's got stuff in his pants what am I still here what are we doing? I've never seen a dead person.
11:25 Like, like, I've never discovered, never discovered a dead person.
11:33 It's not something I really planned on doing. Yeah. Yeah.
11:35 I will say, as you know, you can see we blurred the face of the victim. Because we felt like we should protect his identity.
11:44 Authorities are on their way. This is the most real vlog I've ever made 400 plus blogs. And I've never, I've never had a more real moment than this.
12:18 What the f**.  Feel like this was a stupid hat to wear.
12:20 What are the chances we choose this, this part of the path to walk down there. It's fate and me. Crazy. It's not like we could
12:29 see it it's right there but you can't see it.
12:34 It's how our lives unfold there's no going back.
12:36 I've seen things I can't unsee.
 駐車場に戻ってきた場面
12:46 You guys, we got a dead guy in the forest/bush.
12:48 Four knot, Southeast. Four knot? speed.
12:53 Oh, you can just tell. He's been here before. Oh my god. Oh my f*** god.
13:00 Yasushi is talking to, what looks like, a doctor.
13:07 You can't enter the restricted area. What? You can't enter the restricted area.
13:12. You can't enter. You told us a little too late, bro. I've seen a little too much
13:14 what if it's stumbled upon this guy
13:19 There is kids running around.
13:23 What if? What if  ****  stumbled upon this guy.
13:27 Mmm, crazy. That's the life. That's the life.
13:29 this daily vlog life. Guys, as I have said, this is one of my first vlogs I have chosen to entertain you guys every single day. And I made a commitment to that guys four days ago I was literally I was dying Oh probably not the yeah you were sick.
13:43 singing and I chose to still vlog and
13:45 I've chosen to share stuff positive or negative because this is my life and this is how I'd document it you're the low gang a family and this is all part of it it's that vlog like what I gotta say this is top five craziest things I've ever experienced in my life. fine? Top one. This is the craziest thing I've ever experienced. Ain't gonna be sober fish I'm gonna drink this Japanese sake. It's just literally the **** craziest moment of my life.
14:09 I'm sorry for swearing so much. I'm already getting flag 40 – a nation bro.
14:12 oh dude.
14:15 Me, smiling and laughing does not, uh, it's not a portrayal of how I feel about the circumstances. It's just your coping mechanism. Definitely.  You cope with it with humor. If you guys haven't noticed, I do, I cope with things with humor, while this is incredibly sad. so that a thousand times it's crazy.
14:39 yeah no way Okay.
14:44 I have one piece of advice. Okay? Listen closely.
14:45 Don't go over there.
14:48 Definitely, don't go over there.
14:55 This is the expression of Japanese? No way.
14:58 Hi, guys all
15:02 Oh, OK. (Laughter)
一人で語る場面
15:09
jokes aside we should have listened to
15:11
this football we should have listened to
15:13
this song I knew that this day was just
15:17
gonna be crazy ever since we shot the
15:19
mountain it just like the vibes were off
15:20
now actually though guys all jokes aside
15:22
like I said earlier suicide mental
15:25
illnesses depression these are very very
15:28
real things there are people that love
15:30
you guys there are people that care
15:32
suicide is not the answer literally guys
15:34
what I preach every day is being a
15:36
maverick like it's okay to be different
15:38
it's okay to be unique in fact I
15:39
encourage you to do that so if you're
15:40
feeling ostracized or isolated that's
15:43
fine being depressed is fine what's not
15:47
okay is when you don't seek help or talk
15:50
to people don't feel like you have to
15:52
hide your feelings stay strong
15:53
whatever it is you're going through
15:54
anyone can achieve that feeling of being
15:56
fulfilled and being content and I truly
16:01
believe that every person
16:04
has a place on this earth what that said
16:07
weird one this is a weird one
16:11
okay all still shook you guys would go
16:16
Chuck should I'm soaked it's about a
16:19
fight do this subscribe maybe ah nah man
16:24
this is why I do it so people can can
16:26
live the journey with me so if you're
16:28
not a part of the low gang make sure to
16:30
subscribe tomorrow's vlog I promise you
16:32
it will be much more happier than this
16:35
and from the bottom of my heart low gang
16:37
I love you guys and I'll see you
アメリカの報道をみるとでかなり強い調子で批判されています。
<!? ここからCTA ?>
<!? ここまでCTA ?>